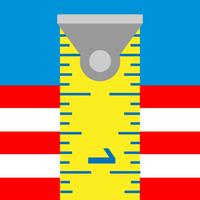 Flagpole Height Calculator
Free Get
Flagpole Height Calculator Description
The Height Calculator by Colonial Flag is a convenient tool that can estimate the height of flagpoles and other objects. It provides a simple interface that guides the user through a few easy steps, and takes advantage of the iPhone's accelerometer to provide the angles it uses for trigonometric measurement.

While Flagpole Height Calculator was designed to assist customers and employees of Colonial Flag in determining the height of flagpoles, we encourage you to find your own uses for this app, and to have fun measuring your surroundings!
Flagpole Height Calculator 1.1 Update
Added support for iOS 8 and iPhone 6 / 6 Plus.
More