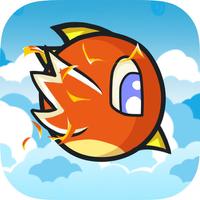 Flappy Phoenix
Not Available
Removed
from the App Store
Flappy Phoenix Description
Help the Flappy phoenix to begin the adventure! Flappy phoenix is very simple and additive game! Help the bird to flap its wings and get as far as possible. This game is not average Flappy game, this extremely addictive game so download at your own risk.

Flappy phoenix is an immensely addictive game, and really hard in beginning. You need to concentrate more to get the bird pass all the obstacles in its way and get to the top of the leader boards. This game is so addictive that you can't stop playing this game if you started playing it. Flap your way to the entertainment with this unique spin on our famous Flappy phoenix game! By using the famous "flap" mechanic now you can get as far as possible and beat all the high scores of your friends.

Your mission is to save the bird from smashing on to the ground. Let's try this simple addicting game now! This game is BACK! Now with more FUN and visually STUNNING than ever before. Experience the Thrill and Excitement while you bravely navigate your character through deadly pipes and other obstacles… But beware - even the slightest mistake and GAME OVER - back to restart! Tap your way to the top of the leader boards and become the king of this game.

Fly as long as you can to get YOUR name and score on the Honorable Global Leader board of Flappy KINGS! Check out where YOU stand among the current world leaders.

How to play this game:
Game play of this super game is very easy that even kids can play this game easily. It has only one touch control; you just need tap on the screen to make bird fly in the air. Just try to avoid all the obstacles on your way and try to get all the coins. You need to concentrate more while playing this game as a simple mistake can make your game over and you will need to start from the beginning. Try to collect all the coins to get high score. Beat your friend's high scores in this game and compete with world players and top the leader board.

Features of this game:
- This game has one touch control; you just need to touch the screen to get the flappy fly.
- Game play of this game is so challenging that you cannot blink your eyes while playing this game, which makes this game more interesting.
- Beautiful & colorful visuals with good definition graphics
- The more coins you will get the more points you will earn.
- You can share you progress simply through social networks.
- Leader boards and achievements of the game in local history, challenge you to reach a higher level.
- Flappy Phoenix will definitely rescue you from your boring time.

Multiple difficulty levels keep everyone entertained, from beginners to advanced Flappy phoenix addicts. If you're ever stuck trying to beat your friends' scores, you can even 1-Up for an extra life. Are you up for the challenge? Get it before it's gone and tell all your friends.

Enjoy the Suspense, FUN and Rewards as you fly through the breathtaking and graphically amazing World. Play and compete against countless others - just like YOU - Worldwide!