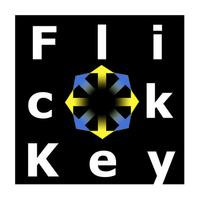 FlickKey Keyboard Notes
Not Available
Removed
from the App Store
FlickKey Keyboard Notes Description
FlickKey is a notepad application featuring the fast and efficient FlickKey keyboard. FlickKey keyboard consists of just six flick-able keys. Each large key lets you access 9 characters. To use: press a key and "flick" in the direction of an outer character to choose that character. You can press ANYWHERE on the large key and flick ANY direction toward the letter you want. If you want the center character, simply press and release the center key, just like a standard key.

The FlickKey keys are so large that they are not hard to hit, they are hard to miss! An experienced user should expect to be able to touch type with FlickKey. That's nearly impossible with a standard mobile keyboard. With FlickKey you can keep your eyes on your message.

FlickKey does NOT work like Swype! It is different - different for a reason. FlickKey's basic input method is more accurate than conventional typing methods. FlickKey maintains its accuracy on very small screens, such as smartwatches.

FlickKey is a notepad app that let's you compose messages and then let's you paste them into other applications. FlickKey can be used with any program that supports the standard paste function. You may also compose an email, SMS text, or search the Web directly from FlickKey.

This version of FlickKey is both a usable app and a demonstration of the pure FlickKey concept. Let FlickKey know if you would like to see a full system IME keyboard version. For your next smartwatch?

FlickKey includes popup flick-able keys containing whole words, plus a finishing space, that can be entered by choosing the word with two little flicks of the screen. Common words can be entered with ease and unmatched speed.

FlickKey features:
◆ Only six super large 'hard to miss' flick-able keys on the screen at a time.
◆ Popup flick-able keys so you can type common words uncommonly fast.
◆ More common punctuation characters on the main keyboard screen :-)
◆ Only two screens for all the alphanumeric and numeric characters.
◆ Email, SMS text, and search the Web directly from FlickKey.
◆ Standard copy and paste functions.
◆ Choose your font and font size. Forgot your glasses, set a large font size!
◆ FlickKey is fast! Speed up your texting or twittering. Or, enjoy writing longer messages again with email or social networking.

+ FlickKey does NOT ADVERTISE to you!
+ FlickKey does not gather information about you, or target you in any way!
+ FlickKey respects your privacy.

If you have any problems with FlickKey, please contact support@flickkey.com before leaving any feedback.

FlickKey has an English keyboard layout, a generic International keyboard layout for Latin based languages (look in the popup keys for the accented characters), and a few basic layouts for French/Belgian, German, Russian, Ukrainian, and Greek – for now.
FlickKey Keyboard Notes 1.9.1 Update
More Information
Language:

Afrikaans

Akan

Albanian

Amharic

Arabic

Armenian

Assamese

Azerbaijani

Bambara

Bangla

Basque

Belarusian

Bulgarian

Catalan

Chinese

Cornish

Croatian

Czech

Danish

Dutch

English

Esperanto

Estonian

Ewe

Faroese

Finnish

French

Fulah

Galician

Ganda

Georgian

German

Greek

Gujarati

Hausa

Hebrew

Hindi

Hungarian

Icelandic

Igbo

Indonesian

Irish

Italian

Japanese

Kalaallisut

Kannada

Kazakh

Khmer

Kikuyu

Kinyarwanda

Korean

Latvian

Lithuanian

Macedonian

Malagasy

Malay

Malayalam

Maltese

Manx

Marathi

Nepali

North Ndebele

Norwegian Bokmål

Norwegian Nynorsk

Odia

Oromo

Pashto

Persian

Polish

Portuguese

Punjabi

Romanian

Romansh

Russian

Sango

Serbian

Shona

Sichuan Yi

Sinhala

Slovak

Slovenian

Somali

Spanish

Swahili

Swedish

Tamil

Telugu

Thai

Tibetan

Tigrinya

Tongan

Turkish

Ukrainian

Urdu

Uzbek

Vietnamese

Welsh

Yoruba

More