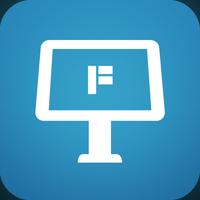 Flow Kiosk
Free Get
Flow Kiosk Description
Flow Kiosk is the easiest way to create, deploy and manage interactive iPad kiosks.

With Flow Kiosk, you quickly and easily create secure, interactive kiosks to engage, inform and transact with your visitors. No programmer needed.

Flow Kiosk is not a web browser experience. Flow Kiosk is a native iPad app that is super responsive and engaging and does not need an Internet connection to work.

Create:
- Start with more than a dozen professionally designed templates or create from scratch.
- Customize with your text, photos, videos, PDFs, sounds, and more.
- Add links/buttons with custom transitions.
- You are in complete control of the canvas with layers, shapes, transparent images and much more.
- Add links to web sites and even link to other Flow Kiosk/FlowVella presentations.
- Create right on the iPad or via the FlowVella Mac app.
- Add media from Dropbox, iCloud, Google Search and more. You can even drag and drop photos, videos, PDFs, and sounds from any app.

Secure:
- Launch into 'Kiosk Mode' to secure your presentations
- When in Kiosk Mode, visitors can't exit your presentation
- Checks to see if your iPad is in 'Guided Access' so remain in Flow Kiosk only

Engage:
- Use autoplaying, looping video to attract visitors to your Flow (presentation)
- Add eye popping images, text, and even animated GIFs

Inform:
- Create real interactive content experiences with videos, photo galleries, text, sound and PDFs
- Allow visitors to email PDFs to themselves
- Use links to allow visitors to dive deeper into the content

Transact:
- Collect leads and customer information with our forms
- Drive traffic to your own web site

Kiosk Mode:
- Switch on or off with custom PIN code
- Adjustable inactivity timer reset from 1 to 15 minutes. When visitors walk away, Flow Kiosk resets to the front page
- Allow looping videos
- Allow users to visit websites within Flow Kiosk without the ability to visit other websites or open other apps

Offline:
- All content works without an Internet connection (except web sites and YouTube videos)
- Videos, photos, and PDFs are downloaded and saved to the device

Cloud manage:
- Update and manage right in the Flow Kiosk iPad app or via the FlowVella Mac app
- Have multiple devices on one account and update their content remotely
- Coming soon -- full remote management of a fleet of iPads

Track:
- Track usage of your kiosk with number of screens viewed
- Reports of video, PDF and more coming soon

Templates include:
- Trade show kiosk, vineyard, video, digital sign kiosk, event kiosk, museum history kiosk, gallery kiosk, product kiosk, company kiosk, retail kiosk, menu kiosk and more.

Support:
- Comes with the best customer support you've ever had
- Live web chat M-F 9-6 Pacific

Join the Party:
Trusted by hundreds of companies, museums, libraries, non-profits, restaurants, schools, and growing. Customers include: Dolby, The Smithsonian, Massey Ferguson, NY Historical Society, Desktop Metal, Museum Fine Arts - Houston, Wells Fargo, Saint Cobain, Sabian and many more.

Flow Kiosk is new, these companies are Flow Kiosk/FlowVella 'kiosk' customers who helped shape and influence the feature set of Flow Kiosk.

Flow Kiosk is free to download and you start a FREE 7 day Kiosk PRO trial. Kiosk PRO is available through an auto-renewing subscription for $19.99/month or $199.99/year. You can use one iPad per account and add additional devices to your account.

Subscriptions will be charged to your credit card through your iTunes account. Your subscription will automatically renew unless cancelled at least 24-hours before the end of the current period. You will not be able to cancel a subscription during the active period. Manage your subscriptions in Account Settings after purchase.

Flow Kiosk Terms: http://bit.ly/FK-TOS

Flow Kiosk grew out of the demand of FlowVella customers who wanted and needed a dedicated and focused iPad kiosk application. FlowVella used to be called Flowboard.

We love our customers!
Flow Kiosk 1.62 Update
1.62 - Optimize the linking between flows. Fixed an issue with YouTube videos.
1.61 - This update is for iOS 13.1.2 and above where the iOS Guided Access bug was resolved.
This is the first Flow Kiosk update for iOS 13. This update is about our continued drive for better quality and dependability, a future version will have more iOS 13 specific features. We make it a priority to listen to our customers' feature requests to ensure that Flow Kiosk is the best iPad kiosk solution on the market and we have built two new features driven by these requests.
Updates and fixes
New Features
- Added two *NEW* kiosk mode features
- Ability to *TURN OFF VIDEO CONTROLS* in full screen videos. The "Kevin D." of the Gates Foundation feature. This feature was requested because while in kiosk mode and 'guided access', viewers were able to adjust volume while videos were playing. Now, when this is enabled, there are no controls, the video plays and when it's finished, it returns to the previous screen.
- Added benefit of this feature is that in iOS 13, you can now pinch or swipe down on a video to stop it, but when the video controls are removed, users won't be able to do this, thus keeping them in the video until it finishes playing.
- *NIGHT MODE* - this allows you to set a timer for when the screen turns black and turns off any looping video that may be on the first screen of a flow. You also set a time to restart. This is great for both museums/galleries and trade shows and a feature that has been requested for some time.
- Better 'inter flow' linking, downloading and working offline. The ability to link one flow to another is one of the key differentiators of FlowVella and Flow Kiosk. Prior to this release, opening a linked flow that hadn't been opened before was cumbersome and offline linking was unreliable. Now, when attempting to open a 'linked' flow, the download and load process is streamlined, you do NOT need to load the flow beforehand. Opening linked flows that are already downloaded now works flawlessly (according to our tests).
- If PRO user, app will preload all media including videos and PDFs
NOTE - We are seeing a bug with iOS 13 where the iPad is not aware if 'Guided Access' is activated. This affects our feature that checks 'guided access' and pushes the user to put the app into Guided Access.
Fixes:
- Form editing was not working properly in iPad Pros that were larger than 9.7 inches.
- Placement of auto advance timer is fixed for flows in and out of Kiosk Mode.
- When an inactivity reset timer is fired, and in a linked flow, in a gallery or video, now resets properly.
- Smoother animation when closing a linked flow.
- Update kiosk instructions depending on IOS software version and iPad model
- Lots of other small fixes.
Known issues: in iOS 13, grabbing preview images from a video is not working yet, needs to be rebuilt for iOS 13.
More
More Information
Language:

Chinese

English

French

German

Italian

Japanese

Portuguese

Spanish

More