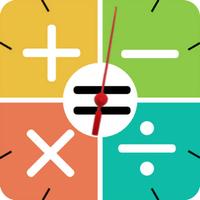 Fluent Maths KS1 Number Facts
Free Get
Screenshots for iPhone
More Screenshots for iPad
Fluent Maths KS1 Number Facts Description
Help your child prepare for SATs and end of year assessments with this simple, safe and fun Maths game. This game will help Year 1 and Year 2 children instantly recall basic Maths facts, develop fluency and confidence in Arithmancy, all of which are fundamental to Mathematics.

Developed under the guidance and approval of a Primary School Maths Teacher, Fluent Maths is based on the National curriculum in England for Mathematics Key Stage 1 (Ages 5 - 7, Years 1 and 2).

You will find unlimited 'Beat your score', 'Beat your time' style challenges covering Number bonds, addition, subtraction, multiplication, division and times tables.

Fluent Maths is a completely FREE and child safe app with no third party ads! What are you waiting for, go download and get cracking!

KS2 (School years 3-6) Fluent Maths game coming soon…..

▶ What does Fluent Maths cover? ◀
Currently focused on KS1(5 -7 year olds) based on the following key elements:
◆ Solve one-step problems that involve addition, subtraction, multiplication and division
◆ Use number bonds within 20
◆ Add one-digit and two-digit numbers to 20, including zero
◆ Subtract one-digit and two-digit numbers to 20, including zero
◆ Recall and use multiplication and division facts for the 0, 1, 2, 3, 5 and 10 multiplication tables

▶ How to use Fluent Maths at home? ◀
◆ Download Fluent Maths app.
◆ Get your child to practice Fluent Maths for at least 10 minutes everyday.
◆ Within a week of regular Fluent Maths practice you will notice an improvement in the speed and recall in Arithmancy.

▶ Children's Privacy ◀
We take privacy seriously and strive to provide a safe setting for your child to learn and practice. Our apps follows the principles of the Children's Online Privacy Protection Act ("COPPA"), a U.S. law designed to protect the online privacy of children.
We use built-in parental control to prevent the child from performing unsafe actions. Outside the parental controlled area, our app:
◆ does not contain third-party advertisements
◆ does not have social networks integration
◆ does not have external links that take you out of the app
◆ does not contain consumable in app purchases
◆ does not collect any personal information directly from your child.
◆ does use a third party analytics provider
Fluent Maths KS1 Number Facts 2.1 Update
We are excited to announce Version 2.1 with these new features:
- An exciting reward (a mini game) for your child after every Fluent Maths practise to keep them practising every day.
- Give us your feedback from within Info screen of the game. It's never been so easy and we would really love to hear what you think about this game.
- A News section within Info screen for you to hear from us.
More