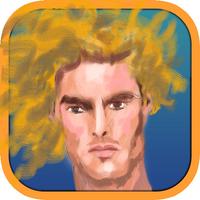 Flying with Icarus
Free Get
Screenshots for iPhone
More Screenshots for iPad
Flying with Icarus Description
Flying with Icarus is a fun and adventurous flying action game—starring the world's first ever flyers, Icarus and Daedalus!

MISSION
Icarus (the young adventurer) and Daedalus (the wise inventor) are trapped in King Minos's inescapable labyrinth on Crete. Inventing wings from feathers and wax, they are ready to escape to freedom.

Choose your character and fly from island to island across the Aegean sea. Stop at islands from Greek mythology and get advice from Olympian gods.

Avoid monsters and obstacles like Sirens, Harpies, Cyclops, Zeus's thunderbolt, and Artemis's flying arrows.

Pick up magic sandals, golden apples, and jetpacks (yes, jetpacks!) Collect wax and feathers and try not to fly too close to the sun!

FEATURES
• Beautiful hand-drawn animation
• Classic storybook artwork
• Arcade-style gameplay
• Learn about Greek mythology


Visit magic islands from Greek mythology: Cythera, Delos, Ithaca, Samos, Naxos, Strofades, Hyperboria, Cyprus, Sicily, Rhodes, Elysium, Atlantis

All games in the Ithacan Mythologies series are illustrated by beloved children's author Sofia Zarabouka, whose retellings of Greek myths have delighted readers for decades.
Flying with Icarus 1.6 Update
-New localizations
-Minor bug fixes
More