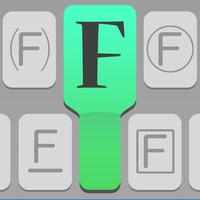 Fonts Keyboard Free - Use Cool Fonts Everywhere
Free Get
Fonts Keyboard Free - Use Cool Fonts Everywhere Description
Sometimes the default font just does not cut it. Spice up your text with high quality fonts. Unlike most font apps on the App Store, you can use the fonts directly from keyboard in all apps. No more cumbersome copy and paste.

You can use it everywhere in all apps. It is ideal for:
• Messaging and emails.
• Profile/bio and comments on social networks.
• Writing eye catching tweets.
• And much, much more.

How to activate:
1. Download the app.
2. Open the Settings app, then tap on General > Keyboard > Keyboards > Add New Keyboard > Fonts Keyboard.
4. All set, have fun!

Note:
If you have the "Guided Access" turned on, please allow "Full Access" when you setup the Fonts Keyboard, or turn the "Guided Access" off (Settings > General > Accessibility > Guided Access > OFF). Check the instruction in the app for more details.