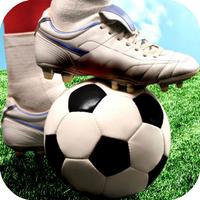 Football Craze
Not Available
Removed
from the App Store
Football Craze Description
World Cup football tournament is on and everybody can feel the football fever everywhere.

Football, the most popular game in the world, is a game many people will like to play, watch and are excited about. And the World Cup tournament being the congregation of the best teams in the world coming together to compete and win the coveted trophy every four years is the ultimate football craze of all football players and football fans.

World Cup football provides the opportunity for football teams and players to pit their skills and display the best they have against the top teams in the world. Here you can see your favourite team and player battle it out with the rest of the world on the field to win the prestigious World Cup championship title.

With the camera photo frame function of this Football Craze app, you will be able to take great shots of your football hero or your favourite football player or team in action decorated with the specially designed football photo frames. You can also snap pictures of your footall super star players or even yourself or your friends who you think could be the next football super stars. Photos with football frames can also be saved, emailed or shared through your social media sites or be printed and kept in your family photo albums or football photo albums or your album of sports super stars.

You can also chat with other football friends or fans and let them know who are your favourite football player and favourite football team or manager and make guesses as to what the football match scores will be, winners of forthcoming matches, qualifiers of round of 16, quarter finalists, semi finalists, finalists etc. and the eventual champion of this year football World Cup tournament.

While waiting during intervals or in between games, you can play the game in this app to help you stay awake too.

Start downloading this Football Craze app now and have great fun with it before the tournament is over!

EDITORIAL DISCLAIMER:
The opinions, comments and predictions expressed on this app are of the writers and contributors own, not indicative of the stand of this Football Craze chat app developer team.

And although users are to feel free to participate in the chats, they are advised to be mindful of their language used and sensitive towards the feelings of others, football fans or players etc.

All names, trademarks and images are copyright of their respective owners. This Football Craze app is made by fans for fans, and it is for entertainment and personal use or purpose only.