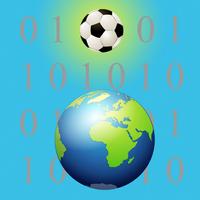 Football World Championships
$0.99
Football World Championships Description
App which can make you a Football World Championship Stats guru or just have interesting information and statistics at your finger tips. Brings data from across all the tournament years formats from 1930-2018 and gives you the information, statistics and ranking for all. Data is made available by Country, by Year or by Phase of the tournament.

No internet access required for accessing the content.

App has the following:

1. Data: Historical information of the tournament
* Details by Year
* Details by Country
* Details by Phase
* Hosts of the tournament
* Formats of the tournament
* Participants for each year
* Debutants for each year
* Top goal scorers

2. Statistics
* Head to Head record of any 2 countries
* Game stats by Year
* Game stats by Country
* Game stats by Phase
* Scoreline stats by Year
* Scoreline stats by Country
* Scoreline stats by Phase
* Highest stat: shows the country with highest value
* Lowest stat

3. Rank
Rank the countries for each of the stats. Rank can be done in ascending or descending order of value or in country alphabetical order.

4. Settings
* Can comprehend the notion of some countries having their name changed or being unified. E.g. (West Germany, Germany). Allows the sats to be calculated separately or unified depending on a setting for each such case
* Can configure if Penalty shootouts should be considered as Draws
* Choose what user wants to see in some of the game details.


More about the statistics
=========================
Some of the stats presented in various sections of the app are standard Football stats like Wins, Draws, Losses, Goals For, Goals Against etc. Football World Championship Guru also has many uncommon but interesting ones like
* Success Rate
* Win Rate
* Goals For Avg.
etc.

Presents the stats over different kind of games i.e
* For all Games
* For games which went into added extra time
* For games which went into a penalty shootout
Some interesting stats for penalty shootouts that are presented
+ Penalties Taken
+ Penalties Received
+ Conversion Rate
+ Save Rate

Some stats also available on a per phase basis E.g, at Finals, at Quarters etc.


Many screens have the info button which enables access to page specific help.