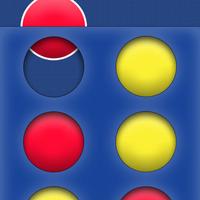 Four in a Row - Connect Four (Connect4) Free - Edition 2014
Free Get
Four in a Row - Connect Four (Connect4) Free - Edition 2014 Description
Four in a Row Edition 2014 is the best free Connect Four (Connect4) game for the people who wants something very easy and friendly to play!!

With this Four in a Row, you can enjoy the pleasure of great graphisms!

The App doesn't need any internet connection, you can play offline to this Connect 4!

App compatible with iOS 7, iPhone 5, 5S, 5C and preivous versions!

Enjoy the best Four in a Row Game of the year 2014! Already downloaded more than 100 000 times.

••• SPANISH / ESPAGNOL •••

Conecta 4 (4 en Raya) FREE Deluxe Edition 2014 (Four in a Row / Connect 4)

Conecta 4 (4 en Raya) Deluxe Edition 2014 es el mejor juego de Conecta Cuatro disponible en el App Store! Descargalo ahora para lo haber en tu Smartphone o en tu Tablet.

Este juego tiene unos gráficos muy elaborados! "El mejor juego de Conecta 4" dice Marina de Alicante.

Compatible también con el Multitarea, l'iPhone 5/5S/5C, con l'iOS 7 ;)

Este juego ha sido descargado más de 100 000 veces por el momento! El mejor Conecta 4 del momento :) Entonces que espera? Cargalo hoy!!
Four in a Row - Connect Four (Connect4) Free - Edition 2014 1.0 Update