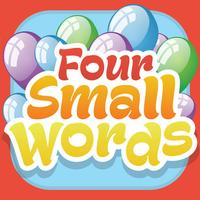 Four Small Words
Not Available
Removed
from the App Store
Screenshots for iPhone
More Screenshots for iPad
Four Small Words Description
Quick, think of one word that could group together rose, lotus, lily, and tulip! Easy - flower. Here's something trickier. What one word could tie together ridicule, pig, hot, and beef?

Give up? It's the word roast.

Four Small Words is brimming with these word puzzles for you to solve! If you fancy yourself a word nerd or puzzle fanatic, then this is the ultimate word game for you. It's the perfect app for when you need to kill some time or just want to challenge your vocabulary smarts.

Test out your word association skills by finding the common connection within a group of four words. It sounds simple enough, right? But here's the twist: the word that ties together all of the other ones won't always be obvious. The answer could be an analogy, synonym, or something else. This super addictive word game is a great way to test out your lateral thinking skills!

How to play:
Underneath the list of four words, you'll be provided with empty spaces to fill in the common word. Using the built-in keyboard, tap the letters to enter your answer and see if you're correct! Not the right answer? Just delete the letters and start again. This can be done by either using the backspace button or by simply tapping on the letter(s) you want to remove.

If you're stuck, try one of the two available power-ups to help you out. One will reveal a letter within the answer to get you on the right path. The other power-up will remove all of the unnecessary letters on the keyboard, leaving you only with the letters that make up the answer.

For every level successfully completed, you'll receive 10 in-game currency coins. Addicted to playing? That's perfect because for every new day that you play, you'll be rewarded with an additional 15 coins! Use those coins to buy those power-ups to help you out on the trickier levels. (There are no in-app purchases within the game.)

Four small words, one awesome word puzzle.
Four Small Words 1.01 Update
A few minor tweaks to make this game smoother.
More