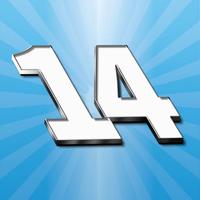 Fourteen
$1.99
Fourteen Description
90 seconds to sum and make most of Fourteen to score higher than your friends!

Simple and addictive: slide your finger over numbers to sum them! Fourteen is a multi-player turn-based game. You play with your friends or with a random player.
Forget letters, play with numbers now!

Want to play? Then download Fourteen right now!

-----------------------------------------
* Addictive and innovative multiplayer game
* Play with your friends or randomly against one of players
-----------------------------------------

*** INSTRUCTIONS ***

* First, you choose your player name.

* To start a new game, select random or enter a friend name.

* A game has 3 rounds: in each one, you have 90 seconds to find as many Fourteen as possible!

* 4 different bonus are available to help you to set higher scores.

* After the round, you can see all combinations of Fourteen you found and those of your opponent!

* Unlock achievements with different records in the game

* You can play your turn when you want (maximum 7 days).


*** DEFY YOUR FRIENDS ***

* You can defy your friends via Facebook, Twitter, Email, user-name or play randomly against one of the other players.
* Many avatars to choose.


*** TOP ***

* You can see the top players. See all the 10th best players of the world.


*** SCORE ***

* Some of the numbers have bonus. There are 4 bonus: number x2, number x3, sum x2 and sum x3.
* Example: you have made 14 with the combination of 6, 6 and 4. If 4 has the bonus "number x3", the score of your combination is 6 + 6 + 4x3 = 24.


*** TRAINING MODE ***

* A training mode is available to improve your math skills.