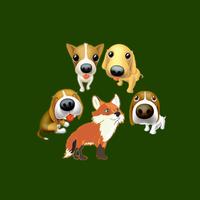 Fox & Hounds by BubbaJoe
Not Available
Removed
from the App Store
Fox & Hounds by BubbaJoe Description
The classic Fox & Hounds strategy game. Fox & Hounds is also known by the names Pig and the Fence, Wolf & Sheep, Hounds & Hare, and Devil & Tailors. Play against the computer or with a friend on the same device.

How To Play
----------------
The Hounds attempt to trap the Fox before it can escape to the other side.

The Fox always moves first and can move both forwards and backwards along the diagonals.

The Hounds may only move forward along the diagonal.

The game is over when the Fox make it past the Hounds or if the Hounds trap the Fox.

In single player mode, the difficulty level will automatically increase or decrease as you win or lose. You can also manually adjust the difficulty level and then lock it into place to prevent it from automatically adjusting.
Fox & Hounds by BubbaJoe 3.8 Update
Bug fixes related to iOS 11, Swift, App Store, and iPhone X.
More