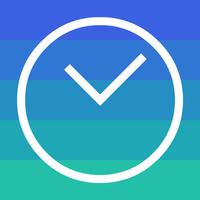 Friendly Clocks - Time Zones for Friends in Just 1 Swipe
$0.99
Friendly Clocks - Time Zones for Friends in Just 1 Swipe Description
Always know what time it is with your friends.

With just one swipe from any App on your iPhone with this iOS8 Today View Widget.

Friendly Clocks has these awesome features:

- Use the App to add the cities of your friends or colleagues.

- Choose from over 20,000 cities from all over the world.

- Add a picture and change the name to make them easily recognizable.

- Swipe down from the top of your screen to open Notification Center from any place on your phone. On the homescreen or lock screen, or in any app.

- Handy icons in the widget show if you can still contact your friends or they might be asleep.

Download Friendly Clocks now and never doubt what time it is with your friends anymore. Keeping time has never been more easy!

Get it while it's hot, free until the iPhone 6 is available.
Friendly Clocks - Time Zones for Friends in Just 1 Swipe 1.1 Update
For some of you the App crashed directly after launch, we're very sorry about that and immediately tracked and squashed this bug.
Thanks for the feedback and if you have any more please don't hesitate to contact us.
More