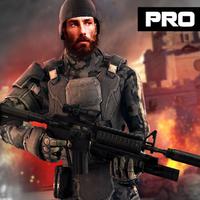 Frontline Army Battle War Pro
Not Available
Removed
from the App Store
Screenshots for iPhone
More Screenshots for iPad
Frontline Army Battle War Pro Description
Frontline Army Battle War Pro

*Full game with NO ADS**

Frontline Army Battle War Pro is a free, one of a kind action first person shooter (FPS) game. Frontline Army Battle War Pro offers a brand new FPS experience in an immersive 3D environment & plenty of challenging missions. Strike hard, combat enemies, battle terrorist, shoot, kill, aim and get tributes. This game will leave players feeling like a true military army commando soldier hero!

Terrorists have attacked your land and they have evil plans of taking over your city. Situation demands to kill the enemy and save the city so military army has chosen you for this crucial special mission. Military army is relying on you to get rid of the terrorist enemy force. They believe in you as a commando and your super shooting skills. Military army has decided to provide you with latest weapons & super guns in this war against terrorists. You will be provided by military army with various super guns like AK 47, M4, MP5 & shotgun. Use your weapons & super guns to strike hard and win this war to be a war hero. Battle skillfully and combat the enemy with courage. Don't allow the terrorists to counter your attacks or strike back. You will be provided by military army with hand grenades also. There will be various barrels placed throughout your mission areas, you can blow them up by shooting at them and use them to your advantage. Military army is putting its trust in you so you need to win the war and defeat the enemy at all costs to be a true war hero!

Lock and load your weapons and rush to the battle zone. Strike with all force and attack enemy with the intentions of destroying it. It might be a game for the terrorists but for you it is a serious mission. The security of your city is in your hands now. Hunt down every single terrorist and kill it before it kills you. Shoot through waves of enemy terrorists to save your city from this evil. This is the most important mission of your career and to kill the terrorists you will have to shoot and use your guns very swiftly. This mission will include a lot of close range shooting & combat so be careful. Battle the enemy skillfully because terrorists are ready to retaliate and kill you. Your life and security of your city is in your hands now. Aim for a headshot and shoot with still hands to kill the terrorists quickly. Shot, aim, combat, battle & strike hard because losing this war is not an option. This mission needs to be successfully accomplished at all costs. It's about time you prove your love for you land and be a true war hero. Time for action now!

Features of Super Army Battle Fury War:
- Addictive action filled gameplay.
- Plenty of missions to keep you entertained.
- Brilliant 3D FPS action shooting experience.
- Different weapons to choose from.
- Real life sound effects.
- Immersive 3D graphics.