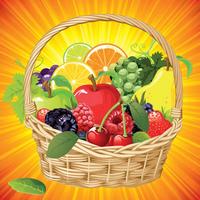 Fruits for Toddlers and Kids
Free Get
Screenshots for iPhone
More Screenshots for iPad
Fruits for Toddlers and Kids Description
Looking for a way to teach your toddler the fruits ? This is the app for you!
Helps your kid to recognize all fruits and know their names!

A simple and educational game to learn fruits and their english pronunciation while having fun with bubbles!
A cute game for preschoolers and toddlers.

Fruits for toddlers and kids : Learn English ! is a nice, simple, fun, and colorful game for toddlers and kids!
Pop all the bubbles and hear the fruits pronunciation!
Fruits for toddlers is a surprisingly addictive and fun way to pass the time for your toddler.

two games mode:
1- bubbles mode:
Create and pop all the fruit bubbles!
Interact with all elements on the screen!
Touch the screen to create all the fruits that you wish.
Tap to pop the fruit bubbles.
Touch and hold to create giant fruits !
2- quiz :
hear the pronunciation of a fruit and tap on the right one!

Available for all screen resolutions and devices ( ipad / ipod / iphone )!

Features:
- Game for preschoolers , toddlers and babies
- Easy to learn and control
- Play with your child or let them play alone
- use it to keep your baby or toddler occupied
- help kids to read and to spell
- fun way to learn the fruits
- encourage your children to enjoy Fruits!
- increases children's knowledge of and ability to identify fruits
- a lot of fruits: apple, apricot, banana, grape, pear, pineapple, orange, watermelon, kiwifruit, lemon, cherry, peach, Cranberry, blackberry, Strawberry , Grapefruit, plum, papaya, cacao and many others

This is the FREE version (Ads supported),
If your kid likes this app, you can buy the FULL version with more fruits and no ads!

It's a preschool interactive game! Play with fruit!
The kids can see, hear and pronounce fruit.
a fun way to learn fruits and their pronunciation.
Fruits for Toddlers and Kids 1.0.5 Update