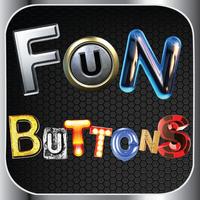 Fun Buttons: 100+ Instant Sounds
Free Get
Fun Buttons: 100+ Instant Sounds Description
Fun Buttons: 100+ Instant Sounds is one of the most extensive original sound boards available anywhere!!! With over 100 QUALITY SOUNDS for FREE, this app will have you and your friends entertained for hours!! Enjoy some of the best memes out today on right your mobile device!

Features:
- A WHOPPING 100 plus buttons (and growing)!!!
- Pitch Shifter (change pitch for any sound with ease)
- Play pranks on your friends!
- Easily navigate through pages of buttons by swiping your finger across the screen!
- Favorites: Easily customize pages with your most loved sounds effortlessly!
- Hide Button: Remove any unwanted sounds with the press of a button!

Sounds Include:
Let me take a Selfie, Ooo Kill em', Over 9000, Rick Roll, Sad Trombone, Finish Him, Backtraced it, Falcoln Punch, Police Siren, Wah Wah, Duh Duh Duh, Hey, Listen, and many more!

Warning: There are some buttons that use profanity. Please use the hide button to remove them individually.