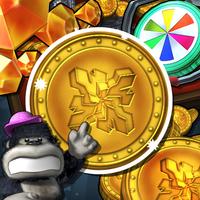 FunFair Coin Pusher
Free Get
Screenshots for iPhone
More Screenshots for iPad
FunFair Coin Pusher Description
You're one well-placed coin away from the mega jackpot, finger twitching nervously as you refine your aim.

And BOOM!, she's away. Down through the maze of pegs, down past the drop-zone feature and onto the coin bed, nudging the prize toy ever closer. The pusher moves. Nearly. Nearly... There! Over she comes with a whole slew of other coins, prizes and tokens. One more like that and you unlock the next level.

Play this classic fairground coin game, re-imagined and vastly expanded to become the leading virtual coin pusher machine available on the store. You won't find anything like this in the arcades as they'd go out of business.

Progress through many exciting levels, meeting various challenges along the way as you strive to become the master coin dropper.

Each time you finish a level, there's a new feature, new challenge, new ability, or something fresh to look at. This is the most comprehensive pusher game you will ever see, building on years of experience gained through creating similar titles.

CORE FEATURES:

* 20+ gameplay widgets, like the Helter Skelter and Prize Cannon, to discover and upgrade as you progress through the game.

* 400 prizes to collect and/or cash in for greater rewards.

* Daily Bonus gives you fun random stuff each day.

* Cloud Save means you'll never lose progress when upgrading your phone or switching devices.

* Gold coins, jewels, prizes, candy and more in abundance.

* A gorilla with a pink hat. What other game gives you that?!

* A whole load of pure awesome.

Download for free right now and see for yourself...