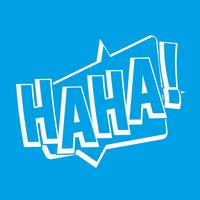 Funny Jokes & Riddles
Not Available
Removed
from the App Store
Funny Jokes & Riddles Description
Funny Jokes & Riddles! Are you looking for a fun app to keep entertained and happy? Try this Funny Jokes & Riddles app. Laughing and jokes have been proven to have positive mental and physical effects on the body! This app is especially great for long trips, waiting rooms, and playing aloud at home. Funny Jokes & Riddles Lots of fun and entertainment for everyone short jokes, animal jokes, bird jokes, and MORE!

I think jokes are the best when you do not expect them, so I didn't want to create a joke book app that you download once, scroll through all the jokes and then never open it again. Instead All you can do in this app is set notifications for when you want to get a joke to your homescreen.

From this funny joke & riddles app...

Q: Why did the cat go to Minnesota?
A: To get a mini soda!

Q: Where do orcas hear music?
A: Orca-stras!

Q: When should you buy a bird?
A: When it's going cheep!

Q: What is green and pecks on trees?
A: Woody the Wood Pickle.


Funny Jokes & Riddles offers the following features :
• Over 200 jokes and riddles sorted in 9 categories.
• Receive a joke notification. .
• Set the joke time, regularity and frequency.
• Support for All iPhone.
• Simple and easy to use.

If you want Funny Jokes & Riddles please download app "Funny Jokes & Riddles" from the App Store.
Invite your friends to join us, Thanks for using our App.