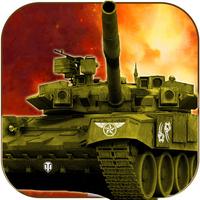 Future Tank Wars : Battlefield of Desert Force
Not Available
Removed
from the App Store
Screenshots for iPhone
More Screenshots for iPad
Future Tank Wars : Battlefield of Desert Force Description
Future Tank Wars is a 3D Tank battlefield which takes you into the thunder world war with thrill and attack action .war of tanks blitz is start. Ultimate world war with havoc tank shooter.
Future fighting of machines, Super Iron force is equipped with the latest armoured. Best Alpha Tank Shooter game!
It's Year 2045, the German force invaded on the Russian tanks world but the main Russian army was focus on battlefield and Germans start combat that being operated by future force and a modern iron Tanks operated by Major, for defend their honour.
A deadly unfinished battle has begin in the desert with massive super tanks. Rival modern tanks are roaming here and there for destroy our homeland. You are commander of super beast tank with modernized special weapon in order to brutal fight with the invaded tanks of elite force.
Your first need is perfect strategic attack and blast the enemy tanks of iron force with destructive bombs. Save your war machine from the counter strikes. Upgrade battle skills to become stronger frontier,deadly and dominate the world of tanks.
Your mission is to take down tanks in time but survival is must for victory!
In this tank shooting game, you forget the gunship strike,helicopter, naval combat, sniper 3d, froniter commando or common 2017 puzzle, casual games,
Fight and shoot your enemies in World War III, there is no man's lands... Know the battlefield area and get the edge on your strategic assault over the enemy
Aim your enemy accurately , tank shooting and destroy all future tanks of iron forces in the world of thunder war. Forget the past, Keep your modern tank save till you finish brutal enemies. It is a game of survival. Use destructive power to destroy all desert force
World's best and unique tank simulator game. Tank warfare with generals of panzer war.

Future Tank Wars : Battlefield of Desert Force Game Features:-

• Amazing Battle Environment!
• Stunning and immersive Graphics!
• Realistic Sound Effects & animations !
• Future war machine!
• Futuristic weapons for assault!
• Huge number of Enemy Tanks!
• Advance and Smooth Controls!
• Lot of fun with lot of tans!
• Age of modern world!
• Unforgettable tank shooter game!
• Mobile Action Game Play!
• Free for pocket gamers!