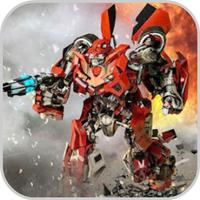 Gangster Robot: Mission Robber
Free Get
Gangster Robot: Mission Robber Description
Gangster Robot: Mission Robber Bank is an epic mixture of robot transformation into car and vice versa. Moreover, furious car driving and extreme robot shooting missions with robbery. Your grand robbery mission would be carried out on three large scale i.e. bank robbery, city theft and car theft where squad stealth robbery and sniper shooting skills would be tested heavily. As an X robot grand robbery master transform yourself into epic robot metal car and become an extreme car driver. This futuristic robot to car and car to robot transformation is really amazing and this way you can carry your wild robbery squad to the robbery spot easily.
Features:
- Amazing Transformation from Robot to Car
- Super Intense Sniper Shooting Missions
- Challenging Robbery Missions
- Amazing Modes to Play & Rob
- High Quality 3D Graphics and Engaging Sound Effects.
Gangster Robot: Mission Robber 1.0 Update