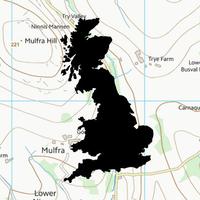 GBTopoMap
$1.99
Screenshots for iPhone
More Screenshots for iPad
GBTopoMap Description
This app gives 100% offline topographic map coverage of Great Britain installed directly with the app. No further downloads required, no account signups, no ongoing subscriptions, just seamless pan and zoom across the whole country at an effective resolution of about 1:25k. Perfect for outdoor use, walking, running, hunting, fishing, cycling, particularly in remote areas with poor cellphone coverage. Please note that this is a large app (4GB) and you will need to have sufficient space to install it.

GBTopoMap includes full navigation functions including route planning, track recording, navigation to points or following routes, over 300,000 built in locations and landmarks. Directly import or share files from any source or channel of your choice. Maps are based on Ordnance Surveys VectorMap District and terrain data that gives 10m contour intervals. The maps are fully installed on your device when you download and install the app from the App Store. Maps will update periodically after that using standard app version updates through the App Store.

Works well with popular British sites describing local walks and activities. Click on .gpx or .kml track links to import directly into the app.

The app is build from the ground up to use the true British National Grid, not the commonly used WGS84 global approximation which doesn't give a true uniform grid. You can spot this when the grid lines don't line up parallel!.

We also design from the ground up for un-compromised functionality. This means, for example, that controls are at the bottom of the screen where you can operate them one handed without shifting your grip, and information is biased towards the top of the screen. All functionality can be accessed with a single tap from the main screen, so that there are no nested layers of menus that you have to navigate and memorise to find what you are after.

The app is completely stand-alone and the app won't nag you for unnecessary things like account login or requests for contact information, feedback, or ratings. We are delighted to hear from anyone with a question or suggestion, and you can check out some of our online info and guides, but you won't hear from us otherwise.

Please note that, as with any GPS navigational app, use of GPS positioning will place a higher demand on your battery and continuous use of GPS will discharge the battery at a faster rate. The GPTopoMap app gives you full control over this. GPS positioning is only activated when actually needed and can be switched on or off at the tap of a button.

Tip of the day: For navigating using the compass functions, look up how to do the 'figure of 8' wave to trigger internal calibration of the compass. Easy to do and makes for much more reliable and accurate compass readings.

Enjoy.