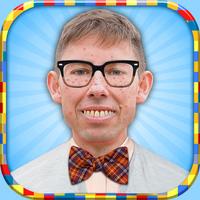 Geek Face Photo Booth: Fun.ny Pic Stickers Editor
Free Get
Screenshots for iPhone
More Screenshots for iPad
Geek Face Photo Booth: Fun.ny Pic Stickers Editor Description
▶▶▶ Are you ready for some fun? Do you want to become geek? If you do – prepare your selfie stick and start making new photos, or upload your old ones that you can change in our cool new photo editor! ▶▶▶

You can turn yourself into a geek in only few clicks with the help of our * Geek Face Photo Booth *! It's amazing photo montage app where you can make your face look like a geek in an instant. In this geek booth you can geekify yourself, your family and friends or even your pets, thanks to the special effects and photo stickers that we have prepared for your entertainment. Convert yourself into a geeky girl or boy - add geeky horn-rimmed glasses, dental braces, acne, t-shirts, scarfs, bow ties or any other items to your photos and transform them into funny pictures! It will make you and your friends laugh all day, for sure!


Features of * Geek Face Photo Booth *

It's the best face changer for fun photo editing;
Choose among many pic stickers: glasses, braces, beard, mustache, old cardigans, pimples and many more geek fashion items;
It's very easy-to-use: import image from library or take a picture by camera and start an epic makeover with our * Geek Face Photo Booth *;
For perfect adjusting on your photo you can zoom in, zoom out, rotate, adjust or add text;
Save the pic of your face makeover in your photo gallery;
Apply different types of effects to make your photo even more interesting;
Set your new geeky photo montage as wallpaper background on your phone or tablet;
Share your weirdo pics with your friends on Facebook, Instagram, Twitter or other social platforms!

▶▶▶ Forget about boring picture effects, be as funny as a geek freak and put stickers to your pics! ▶▶▶

Download our geek app for iOS devices and get geeky even just for one day, because geek is the new chic! Be creative and make the best birthday card for your BFFs by writing a birthday wish and adding some custom geek face stickers - your friends will be amazed! If you are a fan of make me fat and make me old apps, or geek wallpapers, you will be thrilled with this booth online, too! So forget about all other image editing softwares, now you are given a chance to make an extreme makeover in a minute! Don't miss this chance to enter the * Geek Face Photo Booth * today, download the best photo editor and have fun in our geek zone! 

▶▶▶ Have you ever wondered how would you look as a geek? Now you can check it! ▶▶▶

With this * Geek Face Photo Booth * you can add vintage glasses, mustaches and other geeky things and your friends won't recognize your face! Do fun with this photo editor app to geekify yourself and you will never stop combining photo effects of this free app because they are hilarious like never before! You can stop searching for geek apps to edit pictures because you've just found the perfect image decorator.

▶▶▶ Get your geek on!▶▶▶

If you want to know how to geekify yourself, you will need this free geek photo editing software that can help you change your fashion style! Try out different outfits and make great virtual makeover you can share on Instagram or Facebook! Keep calm and geek on!


* The game is free but contains certain InApp packages that can be purchased for real money.