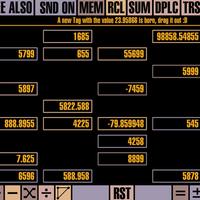 Gesture Calculator Version 2
$0.99
Screenshots for iPhone
More Screenshots for iPad
Gesture Calculator Version 2 Description
Perform mathematics calculations by bumping numbers together.

Version 2.0.0 and above is MAJOR version update.
DO NOT UPDATE IF YOU PREFER THE OLD DESIGN!!!
Previous users of this program will find that the interface has been COMPLETELY redesign, hell even the Tag engine itself have been completely rewritten for speed.
You will find the whole program to be sleeker.
With all the motions the program will be generating, you will literally be seeing how numbers interact with each other.
The program will be "talking" to you in a way [via text, not voice] through the top panel, a new feature created for the kids [I will explain it later].

The reason for this drastic change is due to this single reviewer by the name of "Cobalt Chameleon":
"I teach 5th grade deaf students, so we rely heavily on visual learning.
I love this whole concept & I know my incoming students are also going to love it as well.
They're going to latch onto this quickly and have fun doing math. Wish I'd thought of it!"

When I first created this program, it was to further a concept I have in my mind, to create a calculator that visually shows the interaction of numbers.

After I am done with this app, I moved on without a second thought.

But then I saw this one review months later [it was the only review at the time] and it makes me all emotional when I realize that through a teacher, I have benefited a group of deaf students.
It made me cry a little [Yes, I am a man and I cry...] to know that a simple idea from me could help a small group of deaf students.

With the understanding that there will be children using this, I immediately drop all my projects and work on this again; I have to redesign the whole thing for them and I've dropped the price to $0.99.

I've made it more lively, added more features, made the buttons bigger for them.
When things get complicated, there will be textual explanation so that the kids can understand.
The by product of the bigger buttons also means that it's now usable on the iPhone, hence, this version is also iPhone compatible!

And if you are the kids reading this, don't worry about the sound; I have made sure that all you need to know can be read, I am sorry, I didn't know you couldn't hear the sound, I am sorry kids.

This is for you kids...and your Teacher Cobalt Chameleon.

I was a teacher before; I feel so much for the kids and the teachers.

And to Cobalt Chameleon, I am not a "company", I am one person, when you wrote this review, you wrote to me.
I hope this will make you and your kids happy, I felt so happy writing this and from all the work I've placed on this new version with my heart.

If you have any suggestions, please kindly drop your email along with the review so that I can get back to you if necessary.


This is one of the positive things my user says about version 1 of this app:
I don't care how useful this is...but it takes the iPad cool factor to another level.
I downloaded it and use it to wow people who want to get a closer look at the iPad.
My Grandson plays with this thing more than his other toys and I've take advantage of that to teach him math...this has so much potential...I hope the author of this app knows this as well! Looking forward to updates.