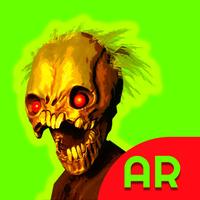 ghosthuntAR: Survival
Free Get
Screenshots for iPhone
More Screenshots for iPad
ghosthuntAR: Survival Description
"The shooting experience is enhanced a lot because of the vibrant, splashy and energetic visuals, it's really a stunning looking AR game." - ARcritic.com

Ghost are coming out of the Void and we need your help huntar! Play the ultimate Augmented Reality shooter; powered by ARKit!

You hold in your hand a special device that lets you see between worlds and into the Void. Use it to take down wave after wave of deadly creatures and help cleanse our world of this vile putrescence!

Collect cubits to unlock more powerful weapons and upgrade your shield. You're going to need them to survive.

Climb the leaderboard and become a legendary ghosthuntAR!

Can you SURVIVE?

Additional "Fright" mode: pass your device to an unsuspecting friend and laugh at their terror! Upload a video of their reaction to social media.

--
WARNING!!! This game is designed to make you move about your environment. Ghosts will chase you, you will need to dodge projectiles, and collect loot in your environment. ALWAYS BE AWARE OF YOUR SURROUNDINGS! Do not play near traffic, on the side of a mountain, or anywhere else you think might spell impending doom.