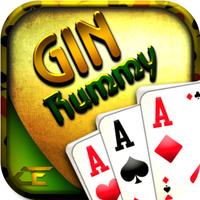 Gin Rummy Pro
Not Available
Removed
from the App Store
Screenshots for iPhone
More Screenshots for iPad
Gin Rummy Pro Description
-One of the most popular card games, Gin Rummy Pro by OEngines studio, Non Stop Gin Rummy Offline fun is finally here.
-The best one player card game Gin Rummy Pro is now ready for iphones and ipad with high qualities. Download now and play free. You can play free Gin Rummy Offline in anywhere you want. The main contribution of our game is playing offline Gin Rummy Pro its challenging opponents with Strong AI, classy graphics and smooth game play.
-Gin Rummy Pro offers you a great experience against Great AI . You can play in many different game modes such as Straight Gin, Gin Rummy, Oklahoma Gin.

*** Object of the Game ***

-The object of the game is to collect a hand where most or all of the cards can be combined into sets and runs and the score value of the remaining unmatched cards is low.
-A run or sequence consists of three or more cards of the same suit in consecutive order, such as same suit of 2,3,4,5,6,7,8,9,10,J,Q,K.
-A set or group is three or four cards of the same rank, such as same rank 7,7,7.
-A card can belong to only one combination at a time - you cannot use the same card as part of both a set of equal cards and a sequence of consecutive cards at the same time

Note that in Gin Rummy the Ace is always low. A-2-3 is a valid sequence but A-K-Q is not.

*** Gin Rummy Pro Variations ***

== Gin Rummy ==
In standard gin, only a player with 10 or fewer score of deadwood may knock. Knocking with 0 score of deadwood is known as going Gin or having a Gin hand, while knocking with deadwood score is known as going down.

== Straight Gin Rummy ==
Is a version of Gin Rummy in which there is no knocking. Both players attempt to get gin, and the player who gins first is the winner.

== Oklahoma Gin Rummy ==
In this popular variation the value of the original face up card determines the maximum count of unmatched cards with which it is possible to knock. Pictures denote 10 as usual. So if a seven is turned up, in order to knock you must reduce your count to 7 or fewer.

GAME FEATURES
-Interactive User Interface and animations effects.
-Best sounds effects and easy controls to group cards.
-Easy Controls to user can easily take and throw card from suit. Drag card and make groups that identify with different colors.

GinRummy is Rummy card game played with family, friends & kids.
GinRummy Game is Download for Free!
With plenty of features, Gin Rummy Game brings you a really unique gaming experience.

The game and its variants are popular in many countries and under various names.
Just launch Offline Gin Rummy Pro and rack your brains and win!
Gin Rummy Pro 2.0 Update
-Update User Interface as well as computer players strategies.
-Enjoy gaming without chips or coins, Play free any mode without internet & without any kind of bet.
-Enjoy any mode of game freely.
More
More Information
In-App Purchases:

Remove Ads Pack $2.99

Gin Rummy Offer Pack3 $2.99

More