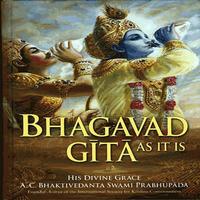 Gita As It Is
Free Get
Gita As It Is Description
Bhagavad Gita AS IT IS - Translation ans Purport by HDG A C Bhaktivedanta Swami Prabhupada.

** Many lectures of HDG A C Bhakti Vedanta Swami Prabhupada on his journey in the WEST to establish the Hare Krishna Movement around the world. **

** Thousands of audio lectures linked with the verses **

** Play individual verse ***

** Play/Pause entire chapter ***
** Continuous play for all the chapters **
** Search verse *

** 24 hrs radio channel ***

*** WiFi required for all the Audio **

** verse are chanted in the following languages ( in audio) in CHAPTER MODE only and individual verses are always in Sanskrit **

** Sanskrit
** Gujarati
** Hindi
** Sanskrit & Hindi
** Sanskrit & Tamil
** Marathi
** English
** Spanish
** French
** Arabic

* Multiple language features are only for playing audio in chapter mode.


Text : @Copyright Bhaktivedanta Book Trust International.
Audio: All the audios contents are powered by desitretree.com

Contents are used and linked with due permissions.

All glories to HDG A C Bhaktivedanta Swami Prabhupada.

Chant the Maha Mantra - Hare Krishna Hare Krishna Krishna Krishna Hare Hare Hare Ram Hare Ram Ram Ram Hare Hare - and be happy.
Gita As It Is 1.15 Update
+ bug fixed. (After search , the app crashes while swiping)
More