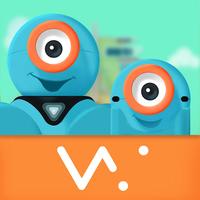 Go for Dash & Dot Robots
Free Get
Screenshots for iPhone
More Screenshots for iPad
Go for Dash & Dot Robots Description
PLEASE NOTE: This app requires a Wonder Workshop robot - Dash or Dot - and a supported Bluetooth Smart/4/LE-enabled device to play. To find out more, please visit our website: https://www.makewonder.com or an Apple Store (US, Canada). This app is FREE to play.

Whew! Dash & Dot have traveled the seas and finally arrived at your doorstep. Now it's your mission to show them how to play! Get full control of Dash & Dot with the Go app.

Send Dash on missions to deliver messages, use Dot to act out storybook characters, and go out and explore the world together. Ready, set, Go! This app is just the beginning of coding and playing with Dash & Dot. For ages 5 and up.

As seen on the New York Times, USA TODAY, WIRED, Engadget, BBC, and more.

"Thoroughly absorbing." - New York Times

"Both kids begged me to take out the robots and start playing with them again." - Business Insider

"Wonder Workshop's notion that kids need to learn twenty-first century skills (and can have fun doing it) flips the industry paradigm on its head, putting kids first." - James Oppenheim

"They are designed to encourage kids to explore and be curious while also learning problem solving." - VentureBeat

HOW TO PLAY
- Connect Dash and/or Dot to the Go app using Bluetooth Smart/4
- Make Dash & Dot your own by setting their personalities and names
- Discover how Dash moves with full directional control and multiple speed settings
- Program the lights to display an array of colors and patterns
- Make Dash & Dot play fun sounds and animations

If you have any questions or suggestions, we would love to hear from you! Contact us at any time at https://help.makewonder.com.

ABOUT WONDER WORKSHOP
Wonder Workshop, an award-winning creator of educational toys and applications for children, was founded in 2012 by three parents on a mission to make learning to code meaningful and fun for children. Through open-ended play and learning experiences, we hope to instill a sense of wonder while helping kids develop their creative problem solving skills. We play test with children throughout our product and app development process to make sure our experiences are frustration free and fun.

Wonder Workshop takes children's privacy very seriously. Our apps do not include any third-party advertising or collect any personal information. For more details, please see our Privacy Policy and Terms of Service.

Privacy Policy:
https://www.makewonder.com/privacy

Terms of Service:
https://www.makewonder.com/TOS
Go for Dash & Dot Robots 1.12.0 Update
Howdy do!
We've made some software and firmware updates to give you more control over your robot:
-When the robot is powered off, plugging in a charging cable will no longer cause it to power on.
-The power button now pulses with light when the robot is charging.
-You can now see the robot's battery level, thanks to the battery indicator in the app.
We've also fixed some bugs and made general improvements.
Tell us what you think of Go by leaving a review!
Toodles,
The Wonder Workshop Team
More