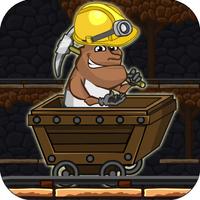 Gold Miner Jack Rush: Ride the Rail to Escape the Pitfall
Free Get
Screenshots for iPhone
More Screenshots for iPad
Gold Miner Jack Rush: Ride the Rail to Escape the Pitfall Description
Are you ready for an exciting, challenging game that keeps you on your toes? It's hard when you're just trying to get home and someone's always on your heels! With this exciting game app, it's not just luck that will get you home alive-it's skill!

You've always thought you had speed and style, but now you're proving your coordination and dexterity like never before. What is that chasing you as you try to get home? And what's with the obstacles that keep popping up in your way? If only it weren't so dark, you might be able to see better!

Of course, that would take all the fun out of it!

As you hurry through the game you'll do your best not to run into anything or the game will be finished and you'll have to start all over.

Crash into a stone structure or other obstacle and you die and the game is over. But jump high into the sky with all your might and you've saved yourself…at least for a moment.

You think it's easy to out run something that's chasing you? You haven't seen anything yet!

Features:
* Great for all ages
* Amazing graphics
* Universal app supports iPhone / iPad / iPod Touch
* Addictive Gaming

Download right now!