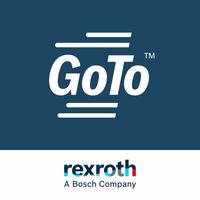 GoToProducts
Free Get
GoToProducts Description
Bosch Rexroth's GoTo Products app takes the advantages of our GoTo Focused Delivery Program and makes them as portable as your iOS mobile device. Wherever you are, you can browse the industry's most popular collection of products for manufacturing, automation and machinery engineering. Easily search from among thousands of Drive & Control products, get technical details, build product lists and e-mail them, view helpful product videos, find (and call!) your local distributor, and connect with us on Facebook, Twitter and YouTube—all from one easy interface.

Registered US eShop users can go a step further and purchase their MyCart content by using the built in eShop check out process.

The GoTo Focused Delivery Program streamlines everything to make it easier for you to get a selection of our most popular Rexroth products faster. You'll benefit from quicker access to product information, reliable lead times that meet or beat the expectations of the market, simplified pricing and enhanced customer service. For more information visit our GoTo Program page: www.boschrexroth-us.com/GoTo

Let Bosch Rexroth be your "GoTo" partner for everything you need to build better machines faster: competitive pricing, customer-focused delivery terms, and expert applications support. The GoTo Products app lets you tap into greater productivity faster than ever. Many companies deliver products. Only Bosch Rexroth delivers Drive & Control.

For our complete product portfolio please visit our website at: www.boschrexroth-us.com or call 1.800.REXROTH (1-800-739-7684).

For GoTo Products app support, please e-mail info@boschrexroth-us.com.