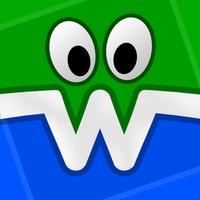 GrabbyWord
Free Get
Screenshots for iPhone
More Screenshots for iPad
GrabbyWord Description
GrabbyWord is an exciting fresh twist on the typical word game. Challenge your friends, play against a random opponent, or play against Grabby and see if you can beat him. Create words on the game board to score points, but be careful because your opponents can steal your letters by using them in new words. Steal the letters back to boost your score.


++++++++++++++++++++++++++++++++++++++++++++++++++++++++++
Grabby Word Features
++++++++++++++++++++++++++++++++++++++++++++++++++++++++++
- *NEW* Events/Tournaments
- *NEW* Speed Matches
- *NEW* Power Ups
- *NEW* Updated Leaderboards & Stats
- *NEW* Daily Reward Challenges
- *NEW* Bonus Goals
- *NEW* Event Badges
- *NEW* Custom Game Tiles
- Delete games
- Fun themes
- Share your screen with friends
- TileView - see which tiles are still left to be played
- Achievements - try to get all 50+ achievements and compete against your friends
- Leader board - see who's gotten the best words of the day and who has the best scores against Grabby
- GrabbyChallenge: play against the computer. 3 different levels of play supported.
- Statistics: see how you've done against your friends. Check your all time and weekly global ranking
- Challenging word game
- Create words
- Use your opponents letters to steal their points
- Bonus spaces increase point values
- Play friends
- Play random opponents
- Pass and play supported
- Chat with your friends during the game
- Customize your tile color
- Dark/Light background setting
- Create a playzot account to play your games on multiple devices
- Unlimited game play. No need to use game currency to play and no timers on playing your turns.