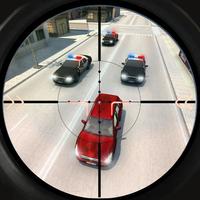 Grand Miami Sniper Gang
Free Get
Grand Miami Sniper Gang Description
Miami sniper gang has attacked your city.The gang is active in doing criminal activities. Now it's time to stop them and clear your city from their crimes. Some enemies are trying to take over the city. A suspected murderer's side kick is taking care of the body needed for post mortem. Kill him before he succeeds.

Our allies have reported sighting the corrupt and ruthless owners of the biggest casino in Miami. Teach them their place. We just received Intel about a possible drug deal happening near Collins Avenue. Kill them all. A group of thugs is running away after a robbery on bikes. Stop them by pursuing and killing them.

Some thugs have been causing terrorism around the block. You have to chase them and kill them before they get away.
Each level has different mission. Aim your target carefully in this Battleground. You can also slow down your moving enemies by using slow-motion feature. Tap zoom icon to toggle scope on/off. Drag the zoom slider up to zoom in and down to zoom out. Controls will help you to target accurately.

Miami Sniper Gang 2017 Features:
Amazing 3D Graphics and Sound Effects!
Experience Amazing Sniping Missions!
Different Enemies to Target!
Interesting Scenarios!
Realistic Sound Effects!
Exciting Game Play!
Grand Miami Sniper Gang 1.2 Update
Performance Improvements.
More