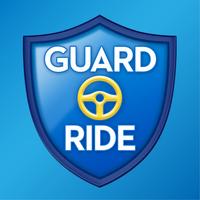 GuardRide Driver
Free Get
GuardRide Driver Description
The Driver app is used by the GUARDRIDE system's driver for monitoring speed, location, face recognition, and blood alcohol content using the BACtrack Mobile device. This data is reported to the companion app Guardian of the same system.

GUARDRIDE believes the best way to reduce drunk driving among young drivers is to create a way for parents to constructively engage with their kids and form a partnership based on the principle of "trust but verify". Because even a good kid can make a bad decision. GUARDRIDE is designed to help prevent that bad decision by having them agree to use the system every time they get behind the wheel. And if they don't their parents will know.

GUARDRIDE is a smartphone based DUI monitoring system that you can use to partner with your high school or college age drivers to help prevent them from drinking and driving.

Using GUARDRIDE is as simple as downloading the Guardian APP on your phone, the Driver APP on your kid's phone and giving them the systems BACtrack Mobile breathalyzer. Nothing has to be installed on the vehicle. During a GUARDRIDE session, they must pass a breathalyzer test before they drive while identifying themselves using facial recognition software. The default BAC (Blood Alcohol Content) setting is a zero tolerance 0.00% BAC. If they fail their breathalyzer test or start driving without taking one you will be notified on your phone and be shown their location on GPS so you can take action. It takes less than 30 seconds for your kid to take the test, and give you peace of mind.

This app is a free download but requires a subscription fee to be used. This app requires a third party breathalyzer device called BACTrack of which it communicates through bluetooth to report alcohol levels. The app also reports location, speed, and other user events to a server that is then queried but the companion app 'Guardian' of the same GUARDRIDE system. Please review further information about this system and the subscription service at http://guardride.com.

Note: Continued use of GPS running in the background can dramatically decrease battery life.
GuardRide Driver 1.6 Update