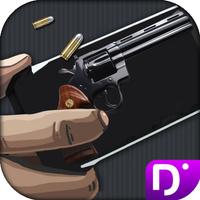 Gun Shooter Sounds
Free Get
Gun Shooter Sounds Description
Gun Shooter Sounds
With the app Weapons Pistols Sounds feel at real war, entertain their friends sounds different kinds of weapons and animation shot! Beautiful weapons simulator in which you will have a certain number of rounds end when followed by recharging.
Play with your friends in the war, take in hand a tablet or phone like a pistol or revolver and shoot by pressing the trigger, followed by animation and sound of the shot!
Realistic sound and graphics guns and pistols! In an application similar to weapons such as the Glock 17, Glock 26, Steyr M1912 and other weapons will be added with updates.
What would you rather choose to play you liked the weapon and pull the trigger. Many people who love guns, people like to keep it in your hands, shoot him.
Each weapon has its own sound. Some very loud, some are quiet. Connect your phone to speakers at home and let the neighbors think that you have a war!
Game application does not require an Internet connection - so you can use it in any place in the country, at home, on the street, at school or even in another country!
You can download and play right now, because it is completely free! Thanks for playing with us! Leave us your feedback and we are happy to answer all and try to make our game more interesting for you!