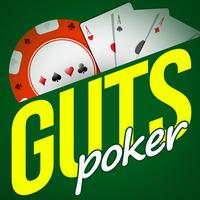 GUTS!
Free Get
GUTS! Description
Like the game we've all played at home, GUTS is a poker based game of progressive showdown. GUTS has one way to play but two ways to win, plus an exciting bonus feature.

The game is played with a traditional 52 card deck on a standard casino style game table. Players play against the dealer and are rewarded if they have the GUTS to challenge the dealer. A player can challenge the dealer in " heads up " action with a 2 card hand and a 5 card hand.

GUTS has built-in suspense with a player/dealer showdown twice in one hand. The more GUTS a player has the bigger the payout !