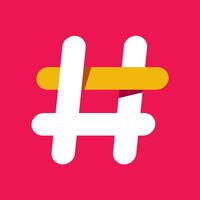 HashFood
Not Available
Removed
from the App Store
HashFood Description
Hashfood is a Social interactive Mobile Application dedicated to Food Industry,
Through HashFood, you can always evaluate and share your food experience with your friends and followers. With HashFood, social media activities are not only for fun, but also for win.

• Upload a snapshot of your dish to HashFood, write your opinion and evaluation, and share it on HashFood
• The more you participate, the more rewards you get, and higher levels you reach, beside the special badges that you can obtain,
• Enjoy HashFood contests, and get rewarded,
• Make it easier to decide on what and where to eat by Knowing more about people's feedback on the different dishes and restaurants.
• And know always the trending dishes and places in your country, and any country you're visiting next…and stay updated on top foodies opinions.


• هاشفوود هو تطبيق تفاعلي متخصص في الاكل. من خلال هاشفوود تستطيع التمتع بمزايا مختلفه تمكنك من مشاركه تجربتك في الاكل مع أصدقائك من خلال تصوير وجبتك وتقييمها.

• مع كل مشاركه اضافيه تزيد فرصتك في الحصول علي مزايا وخصومات والارتقاء بمستواك وتجميع شارات اكثر.
• من خلال هاشفوود تستطيع التعرف علي اراء الناس وتجاربهم عن الاكلات المختلفه في بلاد العالم لتساعدك على اختيار وجهتك القادمه وأيضا التعرف علي اكثر الوجبات تداولا وشعبيه في كل مدينه او بلد جديده ستقوم بزيارتها.
• يتيح لك تطبيق هاشفوود من الفوز بجوائز قيمة من خلال المشاركه في مسابقات هاشفوود المتنوعة.
More Information
Language:

Arabic

English

More