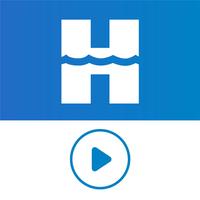 Hayward Connect – T
Free Get
Hayward Connect – T Description
Hayward Connect - T™

A marketing platform, that provides the latest marketing materials from Hayward

Hayward Connect – T is an iPad App specifically developed for you – our Totally Hayward Partners. This simple-to-navigate App will provide all the latest tools and materials from Hayward to help you promote the latest technology
available today, as well as marketing tools to increase your profits while your customers enjoy their oasis.

The Hayward Connect – T App is that it's constantly updated so you will always have the most current information at your fingertips. One touch of a button – sales has never been easier.

Hayward Connect – T Tabs

Videos – this tab contains technical videos specifically filmed for you to understand all the features and benefits of our products. This video library will include technical how-to trouble shooting videos, ways to make pools more efficient while enhancing your customers' pool experience.

Literature – this tab includes the all the literature you'll need to promote Hayward products and consumer lifestyle through innovation.

Photos – here you will find an extensive library of Hayward products in multiple formats and resolutions, for all your online and printing needs.

Presentations – Hayward presentations are great tools for you to educate yourself on ways to promote and sell products and technologies, and helpful tips you'll need to overcome customer objections and close the deal.

Totally Hayward – This tab outlines all of the benefits of the Totally Hayward program and what's available to you as a partner. From our exciting rewards program with your own personal concierge, to co-op advertising and online exposure.

Coop – The Coop provides proper ad layout and templates so you can receive the maximum reimbursement on your marketing spend. You'll find everything you need to grow your brand and profits - from marketing tools, to wearables, to how to redeem your coop points.

Consumer Marketing – In this tab you'll find everything you need to market, sell and support your customers directly. All materials are written directly to existing and prospective pool owners. You'll find great leave-behind materials and electronic files you can use to grow your business.

Buyer's Guide/Pricing – The buyer's guide and pricing tab is where you will find the latest information on products and pricing that you'll need to purchase and bid on new jobs.

Commercial – The Commercial tab is geared specifically for the commercial pool and spa market. The products, materials and tools you'll find here are unique for commercial and aquatic facility property owners and managers as well as engineers.

Tech Services – The Hayward Technical Services group provides support for both our trade partners and consumers.

Promotions – The promotions tab will cover trade promotions that will save you a significant amount of money, and consumer promotions that you can share with your customers so they can save too.

Contacts – Corporate contact information, regional managers, tech support.
Hayward Connect – T 11.173 Update
- GUI Updates
- iOS 13 ready
More
More Information
Language:

Chinese

Danish

English

French

German

Japanese

Portuguese

Spanish

More