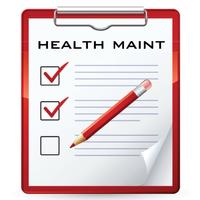 Health Maintenance visit checklists
Free Get
Health Maintenance visit checklists Description
Hey Medical Students & Residents! (and anyone else interested),

How do you keep straight all the stuff you're supposed to get done at a 9 month old well baby checkup? What about the "annual physical" for a 58 year old? How about a 14 year old's health maintenance visit? Or a 28 week prenatal visit?

Health Maintenance Visit Checklist app brings you two key aides as you grow into doing this work at a high level.

First, the app presents copious typical items to accomplish at any kind of health maintenance visit, whether on babies, kids, teens, adults, and even pregnant women (whose visits are really best appreciated as health maintenance).

Second, the app presents all its guidance consistent with the three objectives in any health maintenance visit: screening, health counseling, and chemoprophylaxis.

The app also includes a brief discussion of the approach to a health maintenance visit.

This material is consistent with (although far from identical to) the way that several other major organizations organize health maintenance, including ICSI, AHRQ/USPSTF, AAP, ACOG, and more.

As the disclaimer states, the content of the suggestions for screening, health counseling, and chemoprophylaxis at any age or visit may differ from what you do. But in most cases it will be similar or the same, and more importantly it suggests what kinds of things you should pay attention to in such visits. It's your job to know your local standards and schedules for various aspects of well child care or prenatal care, etc. And it's your job to keep up to date with latest recommendations on what should appear in grids like this and what should be removed. But these grids are a great place to start.

This app is written and intended for clinician trainees like medical students and residents training in primary care fields including family medicine, internal medicine, pediatrics, and obstetrics. Also appropriate for other learners like nurses, nurse practitioners, physician assistants, etc.

As an educator and clinician, I am interested in feedback and I would be grateful for guidance on improving the tool.
Health Maintenance visit checklists 1.2 Update
improved rendering of supplemental information for readability
More