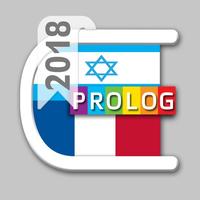 HEBREW - FRENCH v.v Dictionary
$6.99
HEBREW - FRENCH v.v Dictionary Description
HEBREW - FRENCH Dictionary | Prolog.co.il | מילון עברי - צרפתי | פרולוג
FRENCH - HEBREW Dictionary | Prolog.co.il | מילון צרפתי - עברי | פרולוג

PROLOG Dictionaries: Fully transliterated

This comprehensive PROLOG Dictionary offers over 50000 headwords, phrases and translations.
This comprehensive dictionary is ideal for everyday use, at home, in schools and at work.
Main unique features:
- Fully transliterated! (Translated word written in user's language);
- Stressed syllables are marked for clear and proper pronunciation;
- Explanations are provided for choosing the desired translation;
- Feminine form is indicated;
- Completely offline.

In order to enter a Hebrew word enable a Hebrew keyboard in device settings

If this version is FREE then includes apprx 50% of all entries of the full and complete version of this dictionary. You can easily upgrade with in-app-purchase to the full version by clicking the basket at the top right corner of the application.
Paid app includes the FULL and complete version of the dictionary.

Enjoy Hebrew.

מילון דו-לשוני מקיף עם אוצר המילים העדכני מסוגו.

יתרונה הגדול של אפליקציה זו היא בכך שהיא לגמרי offline - כלומר, לאחר הורדתו של המילון והתקנתו איך צורך להפעילו בחיבור WIFI

כמה מילים על המילון:
- המילון בתעתיק מלא מובלט בצבע אדום בשתי השפות (כתיבת המילה הלועזית באותיות עבריות, ולהפך);
- ציון מקום הטעם (אינטונציה) במילה להגייה ברורה ונכונה;
- הסברים מנחים לבחירת התרגום הרצוי וציון מלא לצורת הנקבה.

המילון מכיל יותר מ-50000 ערכים.

זכור לפתוח מקלדת באנגלית או בשפת היעד לשם הכנסת מילה לתרגום.

אם זו גרסה חינמית של האפליקציה אז היא כוללת כ-50% מנפח המילון המלא, וניתן לשדרג מתוכה בכל עת (בתשלום נוסף) לגרסה המלאה של המילון בעזרת עגלת הקניות אשר בפינה הימנית העליונה באפליקציה
גרסה בתשלום כוללת את המילון המלא כבר בהתקנה הראשונית.
HEBREW - FRENCH v.v Dictionary 218.2 Update
עדכון לגרסת הפעלה 11
More
More Information
Language:

Chinese

English

French

German

Hebrew

Italian

Japanese

Portuguese

Russian

Spanish

More