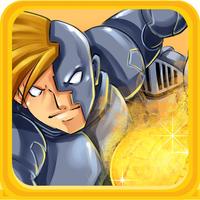 Heciro's Magic Orb
Free Get
Heciro's Magic Orb Description
The town sorcerous Heciro was assigned to the mission of making a magical ball which he was told would help to protect the town from evil. This ball would emit the light of the Ain star from the Taurus constellation and house the power of the Acrux star from Crux.

Little did Heciro know about the corruption within his own town leaders. Who goal was to destroy the town and build up an army of soldiers to conquer other nations. When the ball was complete and Heciro learned of the corruption from his leaders. He tried to destroy the ball, but its power was to great. It escaped from his possession and he went out after it. He told the leaders of its great power and why it must be stopped, but they didn't listen and they went after it.

So Heciro had no choice but to reach out to his good friend Furubight (Ferubit). Furubight is an honest man. The town's greatest knight. He is protector of the land, and his armor was a gift from the God of Tabit. Forged from alloys not of this world. Furubight knew not of his Kings corruption; however, Furubight set out to stop the ball and fulfill his duty as protector of the land.
The King didn't approve of Furubight's plan to stop the ball, and sent his greatest knights to stop Furubight.

Can you help Furubight stop Heciro's Magic Orb?
Heciro's Magic Orb 1.05 Update
Better Controls
Minor Bug Fixes
More
More Information
In-App Purchases:

100 Gold Coins $1.99

More