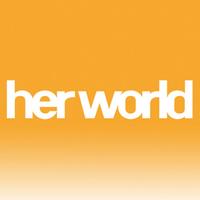 Her World Thailand
Not Available
Removed
from the App Store
Screenshots for iPhone
More Screenshots for iPad
Her World Thailand Description
Her World is now available on the iPad. Her World equips today's female achiever with information she can use – on fashion and beauty, women's issues, career, health, relationships and lifestyle trends. It inspires with engaging reads, keeps its audience updated on international trends, and covers relevant issues with breadth, depth and sophistication.

Her World Features:
• In-depth interviews and provocative reads on issues that matter to the modern woman.
• Insider fashion and beauty tips, plus the latest trend reports and must-buys.
• Insightful columns on career, love, money, sex, IT, travel, entertaining, food and more.

Download Free!! October issue


An account with Ookbee is required to read this magazine. You can register for a new account or login right from the application using your email address and a password. By registering the account with Ookbee, you don't have to worry about losing your magazines again.

News:

- Her World นำเสนอสมาชิกนิตยสารในรูปแบบ "Auto Renewable" ซึ่งจะใช้ระยะเวลาเป็นตัวกำหนดอายุสมาชิกของลูกค้า

- มีให้เลือกทั้งในแบบระยะสั้น 1 เดือน ($1.99) แบบระยะสั้น 6 เดือน ($11.99) และในแบบระยะยาว 1 ปี ($21.99) โดยระบบจะทำการต่ออายุสมาชิกอัตโนมัติภายใน 24 ชั่วโมงเมื่อครบกำหนดระยะเวลา โดยยอดค่าบริการจะถูกเพิ่มเข้าไปใน iTunes Account ที่ลงทะเบียนใช้งานไว้

- หากลูกค้ามีความประสงค์ไม่ต้องการต่อสมาชิกแบบอัตโนมัติในระยะเวลาต่อไป สามารถทำได้โดยเข้าไปที่ Apple ID ภายใน App Store แล้วทำการปิด Auto-renewal โดยมีเงื่อนไขที่ต้องทำการปิดอย่างน้อย 24 ชั่วโมง ก่อนครบกำหนดเวลา

- สมาชิกแบบ Auto-renewal ไม่สามารถยกเลิกกลางคันสำหรับระยะเวลาสมาชิกปัจจุบันได้

*** กด Like "facebook.com/ookbee" หรือติดตามเราได้ที่ LINE Official Account; OOKBEE เรามีหนังสือฟรีและโปรชั่นดีๆแจกฟรีทุกวันค่ะ

**** คุณสามารถส่งข้อแนะนำหรือแจ้งปัญหาต่างๆถึงเราได้ที่ member@ookbee.com (24 ชั่วโมง) หรือ 021872222 กด 2 (เวลาทำการ) ขอบคุณที่ใช้ Ookbee ค่ะ!
Her World Thailand 3.3.16 Update
More Information
Language:

Chinese

Danish

Dutch

English

French

German

Italian

Japanese

Korean

Portuguese

Russian

Spanish

Thai

Turkish

Vietnamese

More
In-App Purchases:

Her World # 84 Feb 2011 $1.99

Her World # 85 Mar 2011 $1.99

Her World # 83 Jan 2011 $1.99

Her World # 86 Apr 2011 $1.99

Her World #097 Mar 2012 $1.99

Her World #88 Jun 2011 $1.99

Her World #081 Nov 2010 $1.99

HW 115 September 2013 $1.99

HW 113 July 2013 $1.99

HW 111 May 2013 $1.99

More