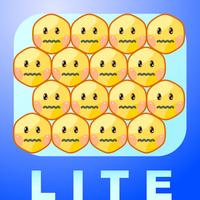 Hex LifeGame Lite
Not Available
Removed
from the App Store
Screenshots for iPhone
More Screenshots for iPad
Hex LifeGame Lite Description
To those who are not familiar with computers.
Do you know the Conway's Game of Life ?

To the person who knows the computer.
Did you know that you can play the Game of Life on a hexagonal map?

The face of the familiar emoticon is chosen as "Mr. Bacterial grain", and let's culture and observe them.

How to play before the introductory chapter.
Use the button "Erase" and "Grain" among the three tools, and arrange a free shape on a square petri dish.
When you press the "Next" button when scattered moderately, it seems to be a group of the living thing when it sees from a long distance by the increase and decrease of the bacterium Mr. Bacterial grain.

How to play the introductory chapter.
Select the third tool "Shape" button, then choose the Shape button containing "▱" in the name. "▱" means placement to the whole surface.
These are just an example of an infinitely conceivable shape.
Then press the "Next" button. Then, the shape changes regularly in this case.

How to play the basics.
Try to erase some of the patterns that are supposed to change regularly, or add some to them. When the original shape collapses, it is this characteristic that it becomes the change which is not regular and becomes disturbed.
Because the Mr. Bacterial grain is smaller than the fingertips and it is difficult to arrange it in an accurate shape, let's enlarge the screen with two fingers, and draw a tidy shape.
The change is different only by drawing one straight line and changing the length. Next, let's practice the triangle and the hexagon.
Press and hold the screen to return to the entire display screen.

How to play in the intermediate.
Mr. Bacterial grain is not born in the place where there is nothing, and the they disappears soon in the place where it is dense.
By the simple rule of the Mr. Bacterial grain and the surrounding six densities, life and death are decided. Even if they are too less, it cannot live, and cannot live even if it is too many.
In the case of this app, it is born in density 2 and adopts the rule of surviving in the case of density 3.
Look at the shapes and mechanical shapes that seem to be alive, and then discover the original shape that will make a distinctive change.

The original "Conway's Game of Life" is a mathematical simulation that takes place on a square matrix, such as graph paper.
There seems to be a lot of history and results of research, so it would be interesting to look into it.

"Game of Life" is called "Life Game" in Japanese-English. Therefore it became this application name.
This description is also a machine-translated sentence from Japanese.
Hex LifeGame Lite 1.0.3 Update
More Information
Language:

English

Japanese

More