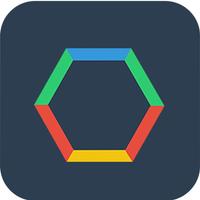 Hexagon - Color Matching
Free Get
Hexagon - Color Matching Description
◆ Rotate the Hexagon to prevent the blocks from stacking outside the outer grey hexagon!
◆ Hexagon is a fast paced puzzle game inspired by Tetris. Blocks start on the edges of the screen, and fall towards the inner blue hexagon. The objective of the game is to prevent the blocks from stacking outside the area of the grey hexagon. To do this, you must rotate the hexagon to collect different stacks of blocks on each face. Aim to connect 3 or more blocks of the same color. When they match up, those 3 blocks are destroyed, and the blocks above them slide down. Destroying multiple series of blocks grants combos, whose durations are indicated by a quickly receding outline around the outer hexagon. You lose once a stack forms outside the outer boundary!
Hexagon - Color Matching 1.1 Update
◆ Add new version for iPad.
◆ Remove Push Notification.
◆ Add In-App Purchase.
More