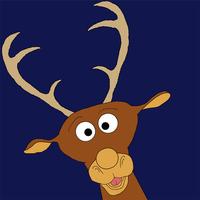 Hey Rudolph
$0.99
Hey Rudolph Description
Hi there!

So, I am NOT Rudolph! - At least, not the one you've eventually heard of...
(It can be really annoying to be taken for a grunting reindeer instead of a royal roaring red deer - Try out and listen!)

I am YOUR VIRTUAL STAG PUPPET, and it's up to you, to give me a worthy name.


I have 4 play modes - Just tip to my nose to switch:

- You can make me try to touch you physically
(Alas, there is this unpleasant glass panel between us... Though maybe I can touch your heart)

- You can control my eyelids and where I look at (And you will notice different emotional expressions)

- You can change the size of my nose (Although, that's not my favorite trick - You will hear)

- Surprisingly, you can control my horns acting like pincers (Looks like I have some genes of a stag beetle)


Force-Touch-Mode for supported devices:
- 3D-Touch on iPhone
- Apple Pencil on iPad pro
You can easily switch on/off the Force-Touch-Mode inside the app.

Have fun!