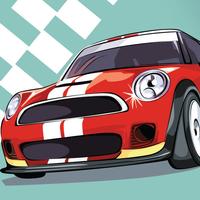 Highway Racer: Car Racing Game
Free Get
Highway Racer: Car Racing Game Description
Do you enjoy racing your car at extreme speeds? In Race Racer you get your chance to prove your skills. It is not easy to dodge other cars with high speed on the road.

Drive your car through the heavy traffic jam like a warrior. The goal is to reach the finish line without running out of fuel or hitting other cars. There are 3 maps to victory.

Race Racer is one of the best simple and fun racing games for kids! Choose your ride and guide it to the finish line! Control your car with just one finger and see how it drift and rolls on it's way. Other racing games become boring for your kid because of hard levels or controls? This is what you were looking for! Fast, simple and exciting car racing!

Gain enough speed to turn between the vehicle on the road. Your kid will love all the surprises in each stage and each road map! There are also plenty of fuel car to collect for better results while rolling for the win! Let your kids to start the engine and drive these rally cars in the shortest time possible and this will make them happy! Even a toddler can play this game without any problems!

The comic cars reminds the toys and child-friendly soundtrack makes the mood ready for the awesome ride! This game will also help with hand-eye coordination!