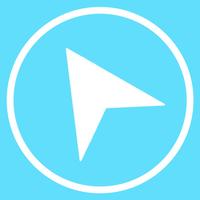 Hone-In
Free Get
Hone-In Description
Hone-In allows users to find any location with simply a compass bearing and a distance that updates in real-time. It can find businesses, addresses, restaurants, cities and more. Start by tapping the hone button to display a search view that is optimized to return locations closest to you. You can locate the nearest coffee shop in seconds! Tap on a search result to "Hone-In" and that's it!

Waypoints offer the user a way to customize and name the locations they choose to "Hone-In" on. They can use their current location or drag and drop a pin on a map. Simply swipe right from the "Hone" screen to access Waypoints.

Hone-In is great for city environments, hiking/camping, or finding your way back to locations such as a parked car. The interface is extremely easy to use, yet powerful and makes navigation a breeze.
Hone-In 2.2 Update
-Redesigned UI
-Performance improvements
More