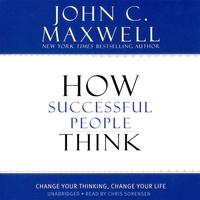 How Successful People Think (by John C. Maxwell)
$9.99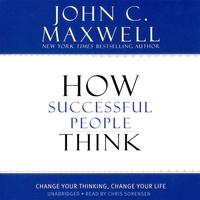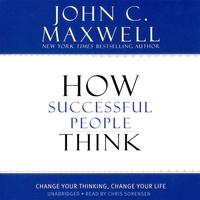 How Successful People Think (by John C. Maxwell)
$9.99
Screenshots for iPhone
More Screenshots for iPad
How Successful People Think (by John C. Maxwell) Description
This special edition app includes audio (nearly 4 hours) read by Chris Sorensen, plus exclusive bonus content; it does not include the book text.

The perfect, compact listen for today's fast-paced world, How Successful People Think (derived from Maxwell's previous book, Thinking for a Change) will teach listeners the 11 secrets successful people know. Arranged in an easy-to-follow format, America's leadership expert, John C. Maxwell, will teach listeners how to expand their thinking and achieve their dreams.

The 11 keys to successful thinking include:

• Big-Picture Thinking - seeing the world beyond your own needs and how that leads to great ideas
• Focused Thinking - removing mental clutter and distractions to realize your full potential
• Creative Thinking - thinking in unique ways and making breakthroughs
• Shared Thinking - working with others to compound results
• Reflective Thinking - looking at the past to gain a better understanding of the future.

This app is part of, and makes use of, the Folium Stellar™ network.

• PLAYER CONTROLS. Includes listen (play), pause, multi-speed fast forward/reverse, jump ahead/back, chapter skip, one-touch chapter- and bookmark browser. There is also a "scrub" bar that finds any point inside the chapter with just a tap.

• SLEEP TIMER. Have you ever fallen asleep watching TV or listening to something? If so, you'll love this feature. Once set, the app will stop, place a bookmark, and allow you to jump back to where you probably began dozing.

• CLEAR & ELEGANT DESIGN. Simple, clean, intuitive, and smarter than average.

• CHAPTER TIMINGS. Always know how much time it will take to finish a chapter.

• OFFLINE LISTENING. You are airplane-ready! Once downloaded, listen uninterrupted without threat from a lost network connection. Downloads are usually just 5-10 minutes, but depend upon your network speed.

• AUTO-BOOKMARKING. The player remembers where you stopped listening and returns to that exact spot when you open the app again.

• SOCIAL SHARING. An easy way to recommend the app to your friends.