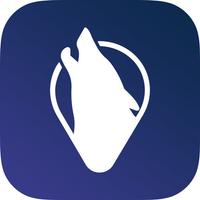 Howl-Find Friends & Nightlife
Not Available
Removed
from the App Store
Howl-Find Friends & Nightlife Description
Have you ever wondered who's going out and what's going on? Howl provides real time information on what's important as you head out on the town. Who is going out and where are they going; does your favorite bar have a line or cover charge? Howl streamlines your social life by keeping you in the know, both with the people and places you love.

Whether you're looking for a chill night out, just want to watch the game or hit the club without waiting in line, Howl is your wingman.

Check out some of our hottest features:

1) Are you going out tonight?
Howl's Going Out feature helps coordinate who's going out and where.
Let your friends know you're hitting the town, where you're off to and invite your squad to join your plans,

2) Check in and join the Howl community
Check in at a bar to let your friends know where you are drinking, and help other Howlers know how it is before they go!

3) Follow your friends adventures
See which of your friends are out on the town and maybe even get a serious case of FOMO. See Live Stats of where they are right on their check in.

4) See what's happening with all Howlers
Howl's Bar Feed gives you a snapshot of Howl's Activity from all over to keep you up to date and in the know near and far

With your whole city in the palm of your hand, Howl you go out?
Howl-Find Friends & Nightlife 3.0.28 Update
Our people spoke, and we listened. After all, you're the reason for it all. Here are two of our favorite changes that we think you'll love just as much!
1) See who's going out AND where they are going
2) Invite friends to join you out on the town or join others
3) Discover which bars are "active" in your city so you can show up to the right vibe
Oh, and we also squashed some bugs along the way.
More