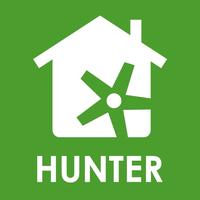 Hunter Fan Visualizer
Free Get
Hunter Fan Visualizer Description
Hunter Fan Visualizer

From the inventors of the ceiling fan comes the world's best fan visualizer app. Want to see how a particular fan would look in your home before you buy it? Or just want some décor inspiration? With the Hunter Fan Visualizer, you'll be able to . . .
• View Hunter's entire fan collection of more than 200 inspired designs
• Place your favorite fan(s) in a room scene: upload photos of your own space, or work with one of the app's included room images
• Adjust the fan's placement, size and color with ease
• Send the image to your friends and family
• Purchase the perfect fan within minutes

"The visualizer takes the guesswork out of the ceiling fan selection process. I knew exactly how my fan was going to look in my family room before I purchased it. The app is super easy and fast. Works brilliantly." – Eric McCarty

***The Hunter Fan Visualizer weighs in at UNDER 50MB so you can download it quickly and it won't eat up a ton of memory.***

Download the Hunter Fan Visualizer now and start improving your space.

This app is also available in the Google Play Store for Android.

ABOUT HUNTER FAN
Here at Hunter, we've set the standard in quality and craftsmanship for more than 125 years.

Sure, we invented the ceiling fan—but every day we find new ways to perfect it. That's our challenge and our passion. Why? Because a ceiling fan is something special. It's more than a mere appliance or fixture—it's a piece of fine furniture that's also incredibly functional. What other home furnishing can maximize comfort, energy efficiency and aesthetics in every room?

Because we design and engineer our fans right here in Memphis, we're able to stay at the forefront of the industry, incorporating the very latest trends and technologies into our fans, then rigorously testing them beyond established standards to ensure a lifetime of whisper-quiet performance. Explore Hunter ceiling fans for every space, style and purpose—and get ready to be inspired.
Hunter Fan Visualizer 1.1 Update
•Barcode Scanner - Scan the barcode on your fan box to quickly find the fan in your app.
•Several other visual enhancements.
More