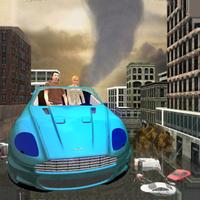 Hurricane Survival: Scifi Car
Not Available
Removed
from the App Store
Screenshots for iPhone
More Screenshots for iPad
Hurricane Survival: Scifi Car Description
Looking for a lifeguard rescue games with a scifi hover car extreme driving simulator in hit of real thunderstorms? Here is a rescue water flood game in tornado weather with a Rescue scifi hover flying car in water and rescuing the trapped civilians from water storm. Hurricane Survival: Scifi Car Rescue Mission is the best Rescue Mission Game for Scifi hover Car Rescue Mission.
Enter the frontline of the Hurricane Survival: Scifi Car Rescue Mission in real thunderstorm and drive ahead it for a specific time! Extreme hover car driving game, which is for hurricane lightning storm fighters only in heavy rain, and you can become one of rescue team members in this hover car extreme driving simulator in one of the best hurricane survival tornado hunter games for Rescue mission games lover !

Your job is to rescue the affected in the first place and make sure you carefully drive the extreme car simulator in form of hover car while rescuing the civilians from the top of buildings and save their life and be the lifeguard rescue by getting away from tornadoes in Hurricane Survival: Scifi Car Rescue Mission. Lightning storm fighters are not easy to be, they need to be in time to perform in tornado chaser games like this. Experience one of the best extreme driving simulator to play and drive your vehicle to the Hurricane thunderstorm before it gets too strong.

Hover flying car games are interesting but this Hurricane Survival: Scifi Car Rescue Mission game is actually in the league of the best flying games and rescuing people games in a heavy rain the scary drive as a tornado chasers in Hurricane Survival: Scifi Car Rescue Mission. Heard of hover flying simulator car rescue games before? If no then just know that this flying scifi car simulator game is all about a brave soldier on a rescue mission with lightning thunderstorm. You are on extreme scifi hover car and looking to visit different checkpoints to pick up the trapped civilians or safely drop the rescued on the defined checkpoints by hiding yourself from the monster tornado in water flood game. If yes then you will surely know that the flying simulator Hurricane Survival: Scifi Car Rescue Mission games are all about visiting different checkpoints in tornado weather as like rescue boat simulator.

One of the best survival games or rescue games will not get this amazing extreme driving simulator on a scifi hover car when it is not super cool. Why this one?

- Become one of the lightning real thunderstorms fighters in the frontline
- Experience the most extreme car driving ever
- On Screen steering wheel and accelerate/brake controls
- Drive ahead and rush through every thunderstorm
- Beat the tornado storm and be in the rescue team.
- Choose different level to drive in this extreme thunderstorm driving simulator

Stormy weather after Hurricane tornadoes that form by winds to study climate change scientists in hover off-road vehicle that launches a prosecution with tornado Storms Hunters enter a racing game against the most dangerous bad weather as a rescue team to save trapped civilians. Facing winds that may exceed the sound barrier with Hurricane Survival: Scifi Car Rescue Mission literally a rescue game in flood lifeguard rescue by driving extreme scifi hover car weather approaching closer to the danger to win.

Rescuers spares no threat to evolved Hurricane Survival: Scifi Car Rescue Mission in this hover car game back with dust designed to prevent the danger and save lives in the emergency department with real-time 3D quality weather simulation follow the evolution of hurricanes.